Free Metronome Software
Here I've collected a few links to the pages where you can download free metronome software, for both Mac OS and PC.
For Mac OS:
Metronome 1.8.2a
A very small and light-weight program.
---
Free Mac OSX metronome 1.50
Another metronome program for Apple. It has a handy speedometer-like interface and supports 4/4, 3/4, 6/8 time signatures.
Open download page in new window
Scroll down a bit the newly opened window/tab where you'll find links to download the program.
---
For Windows:
M & M System Advanced Guitar Metronome.
A very serious virtual metronome, completely adjustable for any rhythmic figure, it allows you to save presets and has a variety of different sounds. This program does not require installation.
Open Metronome Plus download page in new window
Scroll all the way down in the new opened page, and you'll see two links to download, one for the full-featured version and another for a mini variant.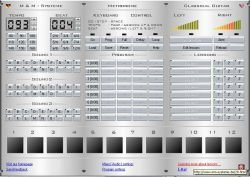 ---
Return to Free Guitar Software Page
This article was last updated on February 12, 2018