How do I get the deep sound of the low strings
by JOHN
(UNITED KINGDOM)
HELLO WHAT I WOULD LIKE TO KNOW IS HOW DO I GET THE DEEP SOUND OF THE LOW STRINGS MY AMP IS A LINE6 75WATT AND A STRAT GUITAR
REGARDS
JOHN
Answer
Your amp is completely capable to sound "deep" on the lower strings.
If your strat is the 'standard strat guitar' with all single coil pickups, you won't be able to get very thick sound, these guitars generally are not designed for metal, although If you have a
humbucker pickup on the bridge ('HSS strat models') they are good for metal also.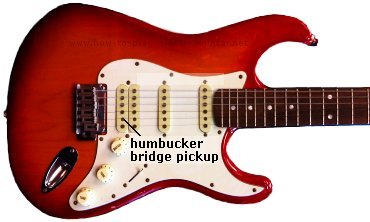 HSS standard stratocaster
No mater which type of strat you own, here is a few tips to get the 'deeper' sound on the lower strings:
• Switch to the bridge pickup (put the toggle all the way to the right).
• Wind the volume knob on the guitar to the max.
• Choose high gain distortion on your amp and use the EQ to increase the BASS and maybe decrease the MIDDLE. (Sometimes playing around the EQ settings alone is enough to get the desirable sound).
• Try to angle the pick as in the picture below:
• Try picking the strings with a thicker plectrum.
• You can also try to lift the bridge pickup closer to the strings, it should increase the gain, although might modify the tone of the guitar.